Kathi Rousselle, Coordinator of Instruction and Advisement, Newport and St. Albans Academic Centers
I was interviewed for my job at Community College of Vermont by six or seven people–seems like the room was filled!  They asked me questions that made me tell them how great I was.  I left feeling, "No way I'll get that job!"  Told my mother it was a terrible interview and wouldn't get the job.  Then the phone call came telling me that I got it!  Total shock!  I started 7/1/75.
The office was on Main Street in Newport, over the Passumpsic Bank.  Two other people worked there, an office manager and advisor.  The office was pretty shabby, and Rosey (my husband) and I laid new flooring and did some painting.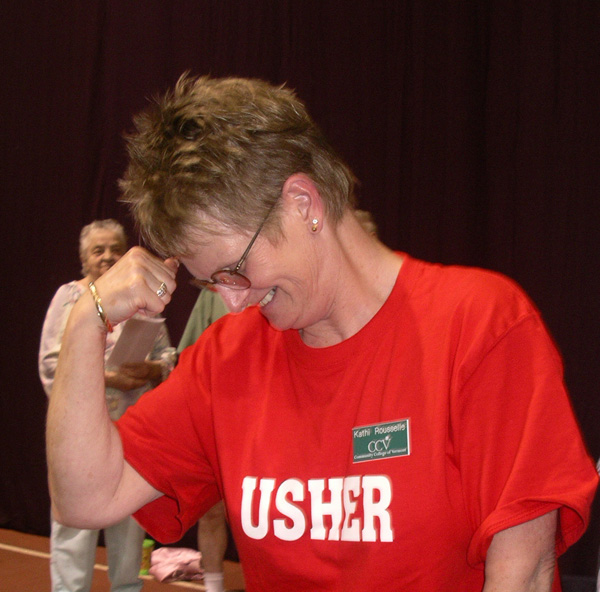 One morning I awoke to hear that there was a fire at the bank.  I raced down to check it out.  The firemen weren't letting people in the building, but somehow I got in. Maybe I knew the fireman!!  I needed to get student degree plans out of there.  In those days, degree plans were HUGE (some stored in suitcases).  There were no duplicates so if they were lost, they were LOST.  I got them and headed back out of the building.  I took a lot of heat from Rosey when he heard what I'd done!
In February of 1979, after opening a few classes, I was home watching the news.  Laying on the couch, a report came on that the Legislature had cut out all of CCV's funding.  At the time, we were a single line item in the budget. Over the next weeks, I was amazing to see students taking charge to get CCV's funding back.  They wrote so many letters to editors in various newspapers and made contact with their legislators.  It worked!  Funding was restored.  The other two people were laid off and Lisa Daigle-Farney was hired as Office Manager.
In 1980, Myrna Miller was our Dean (President).  She needed to bring our budget down so Coordinators got about a 3 week notice that we would be on a 10 month contract.  We would be off mid-June to mid-August.  At first, it was a shock and I was upset about it.  But I had a fair amount of vacation time.  At the time, staff was paid for vacation time not used. In the years to follow, I LOVED having summers off especially after having my son.
Myrna made lots of changes at CCV.  She got CCV on the road to being "a real college," although it took many more years for the public to see us that way.  She is one of the reasons that CCV is still here.  She is a very wise woman!
In 1980, CCV received a TRIO Student Services grant.  Roger Cranse (Director of the program) developed the Dimensions of Learning course.  Coordinators were hired to teach the course and advise students.  They were all split between two sites.  Leonard Foote was hired In Newport part-time and St. Johnsbury part-time.
Ninety-eighty was the first time that CCV had money left at the end of the year.  The staff and our families were treated to an overnight at Tyler Place, a resort in Highgate Springs, owned by Pixley Hill's family.  I understand there were a few Administrative Council meetings held there later on.  I'll just say "What happens at Tyler Place, stays at Tyler Place!"  (Pixley was a Coordinator in the St. Albans Academic Center.)
I was in Newport for twelve years.  During that time we moved three times.  The third office was in the State office building.  Probation and Parole and the courthouse were on the first two floors.  My office was great because I could see Lake Memphremagog.  We only had two classrooms so used the local high school for most classes.  George, the Director of Adult Ed at the high school, "hated" CCV so Lisa and I dealt with constant challenges.  Between George and Eva Warner (Director of Newport's Adult Basic Education who also hated CCV) life could be hell!
Coordinators set up all courses, hired instructors, registered students, did financial aid, did Veterans Administration paperwork with vets, ordered books and, of course, other duties as assigned.  Each site also sold textbooks to students.  Of course, there were not any computers so everything was done on paper.  I used to keep track of course placements on large sheets of paper on my wall.  I had a notebook with each student's name, what needed to be done for financial aid, courses they were taking, etc.
I needed to follow-up with students regarding their financial aid paperwork.  I took the bad debt list personally and would go to student's homes to collect their SAR or whatever paperwork was missing.
In 1987, Rosey was hired at Missisquoi Valley Union High School in Swanton.  OMG, I was freaked but also very excited for him.  I found out that there was going to be a Coordinator opening in St. Albans.  I contacted Tim Donovan who was the Director there at the time.  I was able to transfer to St. Albans (the first transfer in the college).  We moved to Swanton in August, 1987.  I still worked in Newport that fall.  My son, Tim, and I went to Newport on Monday mornings and came home Friday nights.  I was taking David Buchdahl's place in St. Albans.  (David had become Regional Director, then later Academic Dean and Director of Institutional Research and Planning.)
When I arrived in St. Albans I worked with Maryellen Lowe, Joan Kaye, Pixley Hill and Penne Ciaraldi.  Penne was the first Financial Aid Counselor hired at CCV.  It was great not to worry about financial aid.
Pixley left CCV in June, 1988 to work at her parents' resort.  Dian Ulner was hired to join CCV.  Carol Vallett joined us as CCV's first coordinator to develop and facilitate Technical Education at CCV.
In St. Albans we were located on Main Street where Howard's Flower Shop is now located.  Parking was metered and between staff, students and instructors, we paid the meter maid's salary!  There were only two classrooms and one small computer room (six computers).  In 1992 we moved to our present location built just for us by Jim Warner, a local developer.  We could not own buildings so Jim was our landlord.  Andy Dufault was the contractor who built the building.  He is my neighbor at camp!  We were in seventh heaven in our new space.  There were so many classrooms, including a science lab.
For a few years, students had the opportunity to take a CCV course on the Trinity College campus for one week.  This was CCV's Summer Residency Program.  It gave our students a chance to live on a campus for one week in the city of Burlington.
My students were always very special to me.  It was so wonderful to see them grow and flourish at CCV.  I never went to a graduation without crying!  I have had many students go on to be very successful after leaving CCV.  I miss them!
CCV has the best faculty!  Having part-time faculty keeps CCV flexible and able to meet student and community needs.  Our faculty  teach at CCV because they want to pass on what they know from years of experience in the working world.  They care about their students and work hard to help the students be successful.  I miss them!
In the fall of 2002, CCV coordinators started advising External Degree Students through Johnson State College.  For me, it was something new and I loved doing it!  I enjoyed the successes and the challenges.
Over the years, I worked with seven Presidents, 20+ Directors and many wonderful and dear colleagues. It is the best place to work.  Every day was different and such life-changing things happened for our students.  Oh, yeah, and it was fun!!!!!!!!!!!!!!!!!!!!!!!!!!!!!
I retired from CCV on June 28th 2013.