One Family – The Couture Family's Connection to CCV
Please take a few minutes to visit Room 406 the next time you are in Winooski at CCV's Academic Center.  This classroom was the first one at CCV Winooski to be dedicated.  An engraved photo of Alfred V Couture and his wife Marguerite M Couture memorializes this Burlington couple.  Alfred and Marguerite were both born in 1910.  The photo identifying the classroom was taken on their 48th wedding anniversary in 1980 and was chosen by their children who sponsored the room.  Alfred was a hardworking family man who generously served his Church, the City of Burlington as an Alderman, and the State of Vermont as a State Representative.  Marguerite was a woman of faith, a devoted housewife, and a caring mother of nine who always found the time to serve others.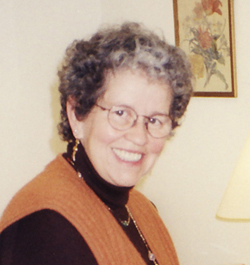 Although Alfred and Marguerite were not directly connected to CCV, many of their children, in-laws, grandchildren, and great-grandchildren have innumerable connections with the Community College of Vermont.  Strong and long-lasting relationships between the Couture family and CCV have been established on many levels.  Joyce Judy and Susan Henry were the positive forces in solidifying these connections.
During your visit to Room 406 in Winooski you will enjoy the 3 original paintings which decorate the room with much grace and poise.  The beautiful oil painting of rhododendrons was painted by Kathleen Couture who is sister-in-law to Alfred and Marguerite.  Kathleen is an accomplished artist who raised 8 children; she completed high school at the age of 50 and then began her Liberal Studies Degree at CCV in the 80's.  Although she did not complete her degree Kathleen still speaks of CCV with pride.  At the age of 85 she continues to speak of her CCV experience.
The floral watercolor painting was donated to CCV by Deanna Couture, wife of Paul who is the oldest son of Alfred and Marguerite.  Deanna is a retired Mater Christi Elementary School art teacher and an accomplished artist.  During the summer of 2006 she took a Landscape in Art class with Robert Huntoon.  Two other family members in the class were Rachelle Couture, granddaughter of Alfred and Marguerite and Janice Couture, daughter of Alfred and Marguerite.  Janice's oil painting of the tulips is the third painting in the classroom.
Among the nine Couture siblings five of us were/are among the CCV faculty in Burlington/Winooski.  Paul Couture, the eldest son of Alfred and Marguerite was an electrician by trade.  He accepted to teach a course in Industrial Electricity while working with CCV students who needed to complete the course for their Technology Degree.
Bernard is the fourth son of Alfred and Marguerite.  He was a high school teacher who taught 3 generations at Winooski High School during a 30 year period.  He taught Basic Math at CCV usually as a substitute faculty member.
James is the sixth child of Alfred and Marguerite (the fifth son).  He had a career in the US Air Force as a pilot; he also taught at the Air Force Academy in Colorado.  At CCV he taught Basic Algebra for several years.   His daughter, Kimberly is Math Curriculum Coordinator for the South Burlington School District who taught Calculus at CCV in Winooski.  On several occasions her Dad Jim, substituted for her in class.
Gerald, Alfred and Marguerite's sixth son, retired from National Life Insurance.  He has been teaching Basic Algebra to CCV students for more than 17 years and wishes to continue for many more.
And I, Janice am the fifth child and the first daughter of Alfred and Marguerite.  I began to work for CCV-Burlington in 2001 as a Coordinator of Academic Services.  My science background provided me with the skills required to oversee the Tech Degrees, The Massage Program, and the Science courses.  From my first few days on the job I developed a strong attachment to CCV.  I love the people with whom I worked.  They are open-minded, respectful, caring.  They are committed to the students, and to the work.  Their work ethic is professional and exemplary.  Team work is exceptional.  Team spirit is life-giving, supportive, empowering.  This Team IS the CCV to which we are attached.
Among the team members with whom I worked are Dee Steffan who at the time was our Lead Coordinator.  Dianne Maccario, Sharon Hopper, and Mica DeAngelis were College Elders whose wisdom enlightened group decisions.  Anita Long, Marianne DiMascio, and Amy Stuart brought creativity and innovation to a dynamic team.  Melissa DeBlois and Katie Mobley lived generous energy and high level organizational and efficiency skills.  Jody Albright and Gail Albert were inspiring as they worked with high school students.  John Devino and Rick Leete brought their personal experience with skill and commitment to the students.  During my 10 years as a Coordinator the Team has grown to include the added talents of Angie Albeck, Ian Boyd, Jen Garrett-Ostermiller, Dana Lee,  Aimee Loiter, Tuipate Mubiay, Erin Meenan and Shelley Jurkiewicz.  Relationships continue to grow between Team members and the Couture family.
CCV's Mission was my own life-mission:  to respect, to care for, and to serve others, especially those most in need.  My siblings and I are the recipients of excellent formal educations which provided us with many opportunities in life.  I quickly understood and wanted to contribute to CCV's Mission of access to education for all Vermonters.  I embraced CCV and all that it represented.  I wanted to spread the "good news" and I took every opportunity to make CCV known.
During my 10 years of service at CCV I encouraged everyone I knew to take classes at CCV.  I spoke of my large family; they were often the first targets of my enthusiasm.  Among my nieces, Renee and Christine Couture (daughters of Paul and Deanna) completed Associate Degrees at CCV.  For Renee it was a post-bachelor degree.  Christine enjoyed her experience at CCV and sent her two daughters, Gina and Mia Franzoni (great-grandchildren of Alfred and Marguerite) who also completed Associate Degrees.  Gina then completed an EDP degree at JSC; Mia still has a couple of courses in EDP.
In addition to the above mentioned nieces, Rachelle and Rebecca Couture (Gerald's daughters), Ashley Durand, and Michelle Murray took courses to transfer credits to other colleges.  Kylie Drouin took a required psychology course for admission to the Doctorate Program in Psychology/Forensics in D.C.  Another great-granddaughter Kaitlin Letourneau completed a post-bachelor certificate while her sister Emile Letourneau transferred class credits for her bachelor degree.  Bailey Devoid continues the family tradition by her dual enrollment during the fall 2013 semester after she completes Intro to College Studies this summer of 2013.
A large family also means a large pool of friends and acquaintances.  Many, many are the persons who came to CCV because of contacts and personal invitations by me or by other family members.
One of my sisters-in-law, Annette was among the first CCV students when she took a French course at the Mill in Winooski.  Another sister-in-law, Doreen Couture took a watercolor class with Jean Cannon.  Among the courses I have taken at CCV are Landscape in Art, Drawing, Multi-Media Applications, Digital Photography, and my most recent Class Piano.  I expect that there will be others!
Gail Tisseur is a family member by association.  She shares in my admiration and commitment to CCV both inside and outside the classroom.  Gail teaches Basic Math in Winooski and St. Alban's.   Since I left my full time position as Coordinator I have joined Gail and my brother Gerald as faculty.  I continue to teach a class in Human Biology in Winooski.
In this Spirit of Gratitude to our parents, Alfred and Marguerite Couture, and in solidarity with one another we decided to express our connections to CCV by sponsoring a classroom in the new CCV building in Winooski, Room 406.  When you realize the number of Coutures and other family members with direct and positive contact to CCV it becomes evident that the attachment is deep and intertwined.   It is our commitment to family and our commitment to CCV that we want to share with others in a concrete and visible manner.  We want to help others earn an education.
I think it was during our first family visit to the new building in Winooski that my then 96 year old aunt, Sister Beatrice Couture (sister to my Dad, Alfred) became convinced that I was president of CCV and did all the work that made CCV operate.  I tried to convince her that a Coordinator's role is one of many and not a position of such responsibilities.  Joyce was not threatened!   Aunt Bea witnessed my commitment and dedication to CCV.  At 99 years old, Aunt Bea remains interested and continues to read the CCV Newsletter.  She now realizes that I am retired and not President of the College.
We, family and CCV friends celebrate our connections to CCV with an annual "Bove's Spaghetti Supper" at CCV Winooski.  Four generations of Coutures and CCV personnel celebrate family, friendship, education, service, and gratitude.  Approximately 40-50 persons from family and from CCV enjoy an evening supper together.  We share life events and happenings.  We remember our parents, Alfred and Marguerite Couture.  In a spirit of enthusiasm we remember one another; we remember CCV and its Mission of Service and Access.
August 10, 2013